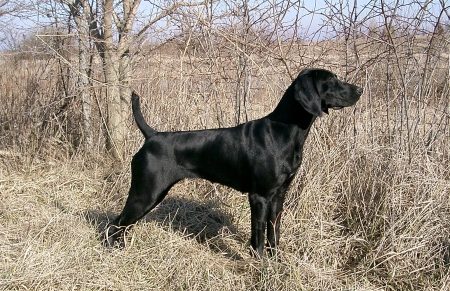 x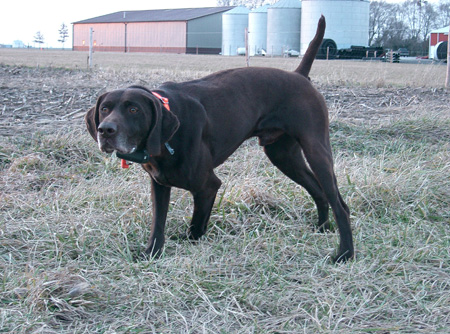 (Wind River's Hot Spice JH x Wind River's Tigger Roo SH)
03-10-08 - There are only four puppies still available from this litter: a solid liver male, a solid black male, a solid liver female and a solid black female.
Spice whelped 10 healthy puppies on January 21, 2008. There are 7 females and 3 males. The breakdown is as follows: 4 solid liver females, 3 solid black females, 2 solid black males and 1 solid liver male. As expected, this litter is SOLID. While each pup had a 25% chance of having white ticking, the genetic "roll of the dice" proved them all solid. This emphasizes the fact that, just because each puppy has a genetic probability of this gene or that gene, there is no guarantee that the litter will produce any sort of genetic "pattern" whatsoever. - Stay tuned for puppy pictures!
---
This breeding should produce some very solid puppies, in more ways than one. This is the first time I've done a solid to solid color breeding. Genetically speaking, because both Spice and Tigger have a white ticked parent, each puppy in the litter will end up having a 25% chance of being white ticked and a 75% chance of being either solid liver or solid black. In any regard, this litter will potentially be rock solid in the field, and conformationally sound as well. The qualities of Spice and Tigger make an excellent combination. Puppies in this litter will be sold for $1,000 each. Deposits are already coming in, so if you're interested please contact us quickly.
---
---
Pedigree of Spice & Tigger Puppies
Wind River's Tigger Roo SH


Solid Liver

VC Jacob VD Westwind MH


NAVHDA UT I | Solid Lvr
Top Prod. Hunt Test Sire 2001

Westwind's Commander Riker JH


Solid Liver
Hustler's Megan VD Westwind
OFA Excellent

Wind River's Hide-N-Seek MH


OFA Good | Lvr/Wh/Ptch/Tkd
Top Prod. Hunt Test Dam 2000 & 01
Seneca's Mickey
OFA Good | Wh/Lvr
Windriver's Holly Hock
OFA Good | Lvr/Wh/Ptch/Tkd

Wind River's Hot Spice JH


Solid Black

Snip's Cajun Cody SH


OFA Exc. | Solid Liver

CH Kitara's Cajun Connection JH

CH Walnut Creek's Babe

Wind River's Tag You're It SH


OFA Good | Blk/Wh Ticked

CH Madrone Eaux-De-Vie MH


OFA Exc. | Cardiac/Thyroid Clear

Wind River's Black Magic MH


OFA Exc. | Solid Black
Top Prod. Hunt Test Dam 2002 & 2005
---
Genetically speaking, for those interested, the "Ancestor Contribution Report" is as follows:
| | | |
| --- | --- | --- |
| Dog Name | # of Appearances | % Contribution |
| Wind River's Hot Spice | 1 | 25.0000 |
| Wind River's Tigger Roo | 1 | 25.0000 |
| Wind River's Hide-N-Seek | 2 | 14.0625 |
| Wind River's Tag You're It | 1 | 12.5000 |
| Snip's Cajun Cody | 1 | 12.5000 |
| Jacob VD Westwind | 1 | 12.5000 |
| Hillhaven's Hustler | 3 | 7.8125 |
| Wind River's Black Magic | 1 | 6.2500 |
| Hustler's Megan VD Westwind | 1 | 6.2500 |
| Westwind's Commander Riker | 1 | 6.2500 |
| Madrone Eaux-De-Vie | 1 | 6.2500 |
| Sundance Kid's Nathan | 2 | 6.2500 |
| Walnut Creek's Babe | 1 | 6.2500 |
| Kitara's Cajun Connection | 1 | 6.2500 |
| Windriver's Holly Hock | 1 | 6.2500 |
| Seneca's Mickey | 1 | 6.2500 |