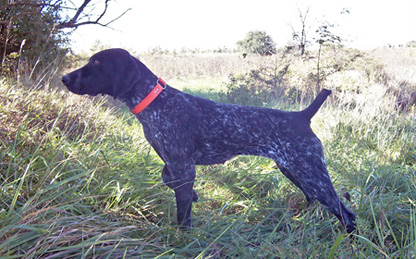 x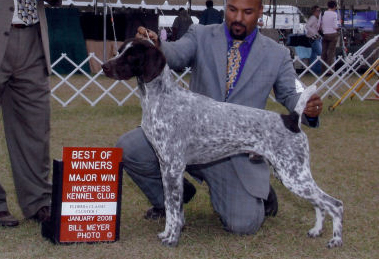 (Wind River's Tag You're It SH x CH Wynson Enlightened)
All puppies from this litter have been sold. This page remains for information purposes only
Issac finished his show championship Saturday, March 22, 2008.
Issac came home with us from Florida and got to see snow for the first time. He didn't think much of our Illinois weather. Most importantly, Issac got the chance to play with kids and birds. He had a great time. We sent him back just in time to start the Florida show circuit.
There were 12 puppies born 12-31-07. We have 6 girls and 6 boys. Tag always does a good job evening out things for me. There are 3 black/white females, 3 liver and white females, 2 black/white males, and 4 liver/white males. None of the puppies have much for body patches. Most of them have a least a patch at the base of the tail with the exception of two of the black/white girls. There are only two puppies with solid heads, and the others have a range of blazes on their faces. It looks like a couple will be dark like Tag but most of them look like they will be hot ticked like Issac. Most importantly they are all carrying very high tails, even from 2 days old! Keep an eye out for new pictures as they grow.
---
We went down to the Sunshine State (Florida) to meet with Karen Conrey of Sunshine GSPs. Karen owns "Issac" (CH Wynson Enlightened), a dog with a lot of field ability and conformational background. This bloodline should be a great addition to the exceptional field desire already prevalent in our Wind River's line.
UPDATE - February 26, 2008 - Issac took Best of Breed and a Sporting Group #2 placement today, beating out the Shorthair that won Best of Breed at the Westminster Kennel Club Dog Show.
---
---
Pedigree of Tag & Issac Puppies
CH Wynson Enlighted


Lvr/Wh Ticked

BIS, NSS Ch FieldFines Back In Action JH, AOM


Lvr/Wh Ticked | 2006 #1 AKC Conformation GSP

CH Fieldfine N Topsfld ElVento

CH Fieldfines Rave On

CH Wynson's First Light


Lvr/Wh Ticked

CH Wyndbourne The Chances Are

BISS CH Von Insel Twilight's Last Gleam

Wind River's Tag You're It SH


OFA Good | Blk/Wh Ticked

CH Madrone Eaux-De-Vie MH


OFA Exc. | Cardiac Thyroid Clear | Lvr/Wh Ticked

CH Minado's Parade Drum Major


OFA Exc. | #1 GSP 95-97, Sire of the Year

CH Madrone Luci Fruit CD, JH


OFA Exc.

Wind River's Black Magic MH


OFA Exc. | Solid Black
Top Prod. Hunt Test Dam 2002 & 2005

Rex Vom Pottsiepen JH


Blk/Wh Ptchd & Tkd | German
Top Prod. Hunt Test Sire 2000

Wind River's Ginger Snap MH


OFA Good | Solid Liver