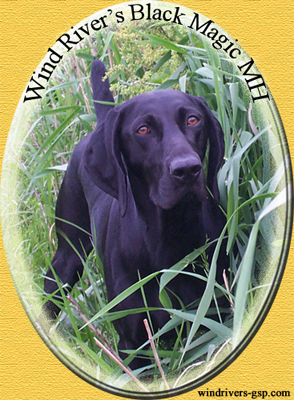 Wind River's Black Magic MH
#1 Hunt Test Producing Dam in 2002 & 2005
Wind River's Kennel is dedicated to producing German Shorthaired Pointers that have exceptional form (well balanced), are fast moving, close working, stylish and have outstanding bird finding ability. In addition, we strive to produce dogs that are not only great hunting companions, but are also even tempered, loyal, and relaxed. Wind River's GSPs are socialized daily with children and adults.
Currently we specialize in AKC Hunt Tests, and plan to add more events as time permits while running our Hunting Preserve.
We produced and own the #1 Producing Hunt Test Dams for the years 2000, 2001, 2002 and 2005.
Breaking News!
Wind River's Hot Spice SH is now for sale. Please contact us for more information and inquiries.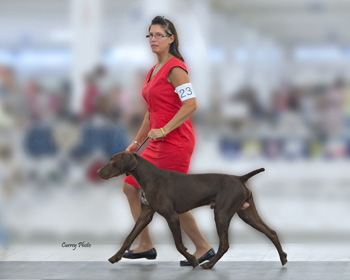 <-- Click for larger photo.
January 7, 2012 - Fudge has won his Show Championship title! This is the first dog that I have bred who has finished a show Championship. What a feat! Bred by: Debbi Koeberlein at Wind River's Kennel; Owned by: Karen Conrey-Robinson; Handled by: More details to come!
January 4, 2012 - The Belle & Smoke puppies have arrived! Momma and all the pups are doing very well. Check our Facebook page for details and upcoming pics!
October 24, 2010 - Congrats to Princess again today, day 3 in a row. I showed her today as a Special for the first time and she went BOS for her first GR CH point.
October 23, 2010 - Congrats to CH Sunshine Dream Princess At Wind River's JH who yesterday was Best of Winners and Best of Opposite Sex and repeated the same today to finish her Championship. Princess is owned by Debbi and Makalah Koeberlein and bred by Karen Conrey and Ruth Miller. Thanks for allowing us to have her. Special thanks to Hillary Goodnight and Amy Bricker - without them we would not have gotten here.
October 9, 2010 - At 8 1/2 years young Wind River's Tag You're It finished her Master Hunter title at the Northern IL Weimaraner Club hunt test. Thanks to my judges Bennie Nelson and Laura Picard, and to my awesome gunners Joe Delaney and Rich Dombroski. Rich pulled of a great head shot and Tag made great retrieve. Also thanks to my bracemate John Prikosovich for giving me a great honoring situation. It has been a long time coming for Tag and she deserved it. Tag is a fourth generation MH on the dam side of the pedigree.
Sept. 2010 - Sunshine Dream Princess at Wind River's JH (AKA Princess) went Best of Breed and took a Sporting Group 1st Place to earn her third Major. She was expertly handled by Hillary Goodnight and Amy Bricker.
Tag earned another leg toward her MH on Saturday, April 3, 2010. Hopefully we'll be able to get her out to more tests this season to finish up this title.
On Thursday, November 19, 2009, Wind River's Black Magic MH left our kennel for the last time. Magic was battling a large tumor in her abdomen and, although Dr. Kim at the Animal Health Care Center in Arcola, IL did everything she could to save her, in the end she just wasn't meant to go on any further. Magic was the Nation's Top Producing Hunt Test Dam for the years 2002 and 2005, and is known worldwide for her accomplishments and impact on the breed. She left a true legacy in her offspring, and a void in my life. She will never be forgotten, but will be very much missed until the day that we walk in the fields again. Until that time she'll be patiently waiting for me this side of heaven, at the Rainbow Bridge. Wind River's Black Magic MH, January 26, 1999 - November 19, 2009.
Where have I been the past two years?!? (click here)